Quiet country
Sunday, December 21, 2014
Luke 1:31-32
Gabriel spoke to her, "Mary, you will conceive in your womb and bear a son, and you shall name him Jesus. He will be great and will be called the Son of the Most High."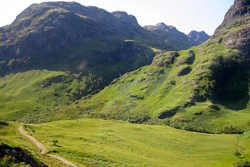 In the presence of God's angel Gabriel, Mary said nearly nothing. In the presence of God, neither do I. Words don't fit the majesty of these last days of Advent the way silence fits them.
Hear the sound of the day growing just a little longer? Aching winter cold whines through bleak branches. What in spring will be a bright whistling which brings life, now hustles me back inside and under whatever covers I can find.
We light another purple candle this morning, signifying fulfillment. The angels sing to the shepherds and the Magi work their way toward the Christ Child. Mary and Joseph, not much to say, try to get some rest on their journey to Bethlehem. The climactic day of their dreamings is nearly upon them.
With them in spirit, we rest too, and seek silence in the presence of God.
Silent night, holy night, all is calm, all is bright. Hush little lambs, just let the silence sing. Lord Jesus nearly born, Lord Jesus always with us, can we hear you now, Lord Jesus? Your whispers? Open my ears today, Lord Jesus.