Birth Day
Sunday, May 24, 2015
John 7:37-39
On the last and greatest day of the feast, Jesus stood up and exclaimed, "Let anyone who thirsts come to me and drink. As Scripture says, "Rivers of living water will flow from him who believes in me." He said this in reference to the Spirit that those who came to believe in him were to receive. There was, of course, no Spirit yet, because Jesus had not yet been glorified.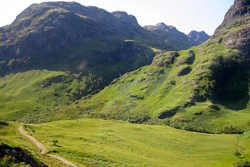 Our Father is the maker of heaven and earth. Jesus is the smartest man who ever lived. And the Holy Spirit sparkles in my eyes and dances her dance within me. What joy to be a child of God.
I am loved, and I'm in love. I leap and laugh! How sweet the songs we sing. Happy birthday, Holy Spirit, happy birthday to you.
Not that the Holy Spirit was born today, but she was born today in me. In mankind. In the children of God. When I open my eyes this morning and rub them awake, a dance is already going on. And I'm not in charge. In fact, when I try to take charge the dance sometimes slows for a time, until I remember that "the earth is the Lord's and everything in it … oh! Taste and see that the Lord is good."
There are other spirits. We have named them. There were and are victims of St. Vitus' Dance. There was the miserable man in the tombs who tore apart his protective chains and cut himself with stones, crying out night and day. Of these spirits we are delivered. But of the Holy Spirit we rejoice.
Fire coming off the top of our heads? "Do not put out the Spirit's fire." There is no smell of burning hair, so enjoy. ☺ And don't stop singing … who knows what might come out of our mouths? The words of God are wiser than ours, different from ours, unpredictable and always life-giving. Let them flow.
We are made to live like this. Try and see. True, we are made to name what God makes, to manage and improve what we're given. But that is our second calling, after the singing and after the dance.
And we dance on a solid Foundation. We can dance in indifference to whether we are in poverty or rich, in sickness or in health, in better or in worse. As we dance we will be amazed at how we find our way toward God and not away.
God has shown us what is good. We can act justly, love mercy, and walk humbly with our God. There is no harm in that. In fact, there is great good in that. And we need not be afraid to open our eyes wide and watch to see what happens next.
So dance till the cows come home.
How beautiful, how marvelous, how wonderful to be alive and full of you, Holy Spirit. To be still and know that you are God. To dance with you and be led by you into the most wonderful swirls and twirls and polkas past imagining. We accept your outstretched hand. Lead us out onto the floor.