Glory to God in the highest
Monday, December 19, 2011
Luke 1:15-17
John will turn many of the children of Israel to the Lord…turn the hearts of fathers toward children, turn the disobedient to the understanding of the righteous …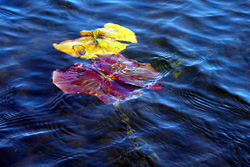 So comes the final week of Advent. Our celebration soon begins - a moment to sigh in the dark wind and, then waking, rise up freshened by the dawn. Once again … the turning.
Jesus breaks the spell of lethargy upon the earth. The brightness of his birth isn't false like light we make ourselves. R. S. Thomas writes of our love affair with Jesus and his counterfeits:
Shelley dreamed it. Now the dream decays.
The props crumble; the familiar ways
Are stale with tears trodden underfoot.
The heart's flower withers at the root.
Bury it then, in history's sterile dust.
The slow years shall tame your tawny lust.
Love deceived him; what is there to say?
The mind brought you by a better way
To this despair?
God does not let this be the end of things, only a delusion, a detour. Jesus is coming …
…Light's peculiar grace
In cold splendor robes this tortured place
For strange marriage. Voices in the wind
Weave a garland where a mortal sinned.
Mistletoe and ivy spread across the threshold. Jesus stands at the door. His knock is unmistakably his own. I can trust Jesus, but never know him the way He knows me. Understanding this, I am free:
Because You are not there
When I turn but are in the turning …
What matter if we should never arrive
to breed or to winter
in the climate of our conception?
It is good. It's all good. No worries. What matter if? Jesus makes the darkness light. He himself is the miracle I need, nothing more …
Enough we have been given wings
and a needle in the mind
to respond to His bleak north.
There are times even at the Pole
when he, too, pauses in his withdrawal,
so that it is light there all night long
I do not discern with my fading sight the different hues of day and night. Today is the third longest day of the year. Dawn comes and passes, dusk comes and darkness … I fall quiet, soon asleep. Safe in arms that carry me toward eternity and beyond ...
Blessed be the adder among its jewels
and the child ignorant of how love must pay …

Blessed the clock with its hands over its face
pretending it is midday, when it is midnight.

Blessed be the far side of the Cross and the back
of the mirror, that they are concealed from us.
Because it is not I who look, but I who am being looked through … Gloria. Because in your captivity I have found the liberty that eluded me when I thought I was so free … Gloria. In Excelsis Deo.
These words are woven from several poems by R. S. Thomas (Welsh clergyman and poet, 1913-2000): "Song at the Year's Turning," "Migrants" and "Mass for Hard Times – the Gloria and the Benedictus."