Day by day by day
Sunday, December 11, 2011
John 1:6-8
John was sent from God. He came for testimony, to testify to the light. He was not the light, but came to testify to the light.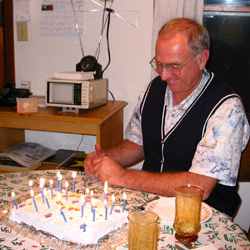 John made that perfectly clear. "I am not the Christ." Then Jesus came, was baptized by John, spent 40 days alone in the desert and returned to Nazareth and said, "The Lord has anointed me to proclaim liberty to the captives."
Jesus was reading from the scroll of Isaiah, which goes on to say, "He has clothed me with a robe of salvation and wrapped me in a mantle of justice, like a bridegroom adorned with a diadem, like a bride bedecked with her jewels."
The words had been read by the Jews in Nazareth for hundreds of years, and nowJesus spoke them as though they were new and applied only to him. What were his townspeople to do with this? What are any of us to do with this?
Paul didn't believe Jesus until he encountered him. Then the words he had memorized as a child … became flesh. And after Paul spent his own time alone in the desert, his heart could begin to sing, "My soul rejoices in God my savior, for he has looked upon his lowly servant." And he could lead the way in his call to worship: "Rejoice always! Pray without ceasing. In all circumstances give thanks. Do not put out the Spirit's fire. The one who calls you is faithful, and he will also accomplish it!"
If we choose to walk it, Paul's path is the same one we are on.
Today's lectionary readings fit together hand in glove, perfect puzzle pieces written hundreds of years apart. Read them for yourself:
http://www.usccb.org/bible/readings/121111.cfm
Jesus Christ is the same yesterday, today, and forever. May we entirely – spirit, soul and body – be kept blameless for the coming of our Lord.
My soul rejoices in you, O God. You have done great things for me, and holy is your Name. You have mercy on those who fear you in every generation. You fill the hungry with good things, and the rich you send away empty. You remember your promise of mercy. My soul rejoices in you, O God.