Restoration, renewal, rebirth
Saturday, December 10, 2011
Matthew 17:2-7
On a high mountain with Peter, James and John, Jesus was transfigured. His face shown like the sun and his clothes became white as light. Moses and Elijah appeared, and a bright cloud cast a shadow over them. From the cloud a voice spoke, "This is my beloved Son, with whom I am well pleased. Listen to him." The disciples were terrified.
Jesus came, touched them, and said, "Rise, and do not be afraid."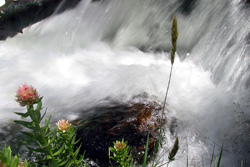 At the Vineyard we sing a song, "Show your power, o Lord, our God … and for our inheritance, give us the lost." Often I hesitate, singing … then silent, listening as those words gouge out the dross around my soul. What am I saying as I sing?
Jesus has been talking about his coming death. The disciples will have none of it, especially Peter. They refuse to comprehend his message of descent: "Whoever wants to be my disciple must deny himself, take up his cross, follow me" (Matt 16:24). How is Jesus handling this?
His Father knows just what Jesus needs, and on this mountaintop day, Jesus receives it. He is not just renewed to go back to his previous life. Something new comes to him, a stronger strength, a more certain certainty.
This story of filling isn't only a Bible text, is it, a story just about Jesus? Doesn't this happen to me? What do I remember, when God touched me, when I was "transfigured," when God's gift moved me into a new part of my life?
There is something very important to learn from Jesus about moments like this, which may come no more than once a lifetime. I might feel my face shine like the sun or my clothes become as white as light. But that experience of wonder and awe, of being overwhelmed by God, is never just for me. Look how tender Jesus is with his disciples. His brothers are lost, they are afraid; they cower even as Jesus is filled. And Jesus does not remain within himself for more than a moment.
Something strong and solid pours out of Jesus onto the heads of his disciples with his gentle words, "Do not be afraid." They trust his words. And when Jesus shares the strength God has given him, that strength grows like a flood within them all.
Stir up your power, Lord, and come to save us. Light up your face and we shall be saved. May your hand be with the son of man whom you made strong for yourself. Lord God of hosts, restore us. Light up your face and we shall be saved. (Psalm 80)