Inner trail toward truth
Thursday, December 1, 2011
Matthew 7:21
Jesus said to his disciples: "Not everyone who says to me, 'Lord, Lord,' will enter the Kingdom of heaven, but only the one who does the will of my Father in heaven."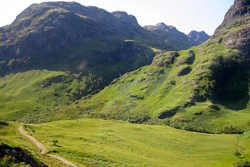 Jesus hates hypocrisy. He hates it! Here, at the end of his most famous sermon, the Sermon on the Mount, he says (in the words of The Message), "Be wary of false preachers who smile a lot, dripping with practiced sincerity … (who) use me to make (themselves) important."
Jesus says that his words, these basic instructions before leaving earth, are not meant merely for bible studies but are "foundational words, words to build a life on."
One reason hypocrisy is so hateful and so dangerous is that it is undetectable from the outside. I can't even tell from my own actions, and certainly not from my words, whether or not I am sincere. All the real business is going on inside me, between me and myself, between me and God.
Again, a bit earlier in the chapter, "Don't look for shortcuts to God … The way to life – to God! – is vigorous and requires total attention." There are ways to pay this kind of attention to God, and to my interior life. These ways require healthy self-criticism and healthy self-confidence, in which I know both that God is in charge and that He loves me.
As I absorb those truths and am quiet with myself for awhile every day, God will show me all I need to see and teach me all I need to know.
Thank you, Father, for never labeling me and for always expecting my best, even after I have failed over and over to be the best for you. Your unwavering loyalty inspires me to love you with all my heart.