God invades the hospital
Tuesday, April 1, 2003
John 5:1-9
1) After this there was a feast of the Jews, and Jesus went up to Jerusalem.
2) Now there is in Jerusalem by the Sheep Gate a pool, which is called in Hebrew, Bethesda, having five porches.
3) In these lay a great multitude of sick people, blind, lame, paralyzed, waiting for the moving of the water.
4) For an angel went down at a certain time into the pool and stirred up the water; then whoever stepped in first, after the stirring of the water, was made well of whatever disease he had.
5) Now a certain man was there who had an infirmity thirty-eight years.
6) When Jesus saw him lying there, and knew that he already had been in that condition a long time, He said to him, "Do you want to be made well?"
7) The sick man answered Him, "Sir, I have no man to put me into the pool when the water is stirred up; but while I am coming, another steps down before me."
8) Jesus said to him, "Rise, take up your bed and walk."
9) And immediately the man was made well, took up his bed, and walked.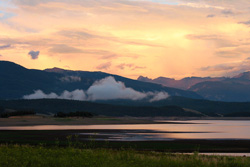 Average life expectancy in 30 A.D. was 40 years. This man had lived 38 of them, many of those lying beside the pool at Bethesda, the "house of mercy."
What little healing took place at this pool seemed almost cruel in its arbitrariness. The old superstition kept invalids captive as they waited for the next "stirring." In the meantime their lives must have been miserable, full of self-pity, resignation, despair.
No wonder Jesus began his conversation with the not-so-rhetorical question, "Do you want to be made well?" The man he spoke to was helpless emotionally as well as physically. But Jesus' next words cut through it all. His command to action preceded any evidence of healing. I imagine the invalid's mind, filled with the imperative of Jesus' words, so different from his own thoughts, Jesus' certainty, his insistence, his strength.
It becomes evident later in the chapter that this man had no idea who Jesus was. Would I have listened as well as he did to a stranger saying such strange things?
I don't know. But this stranger was Jesus, his eyes full of compassion and power, his hands gentle and certain, the Holy Spirit all over him. And because he listened, Jesus' words changed this man's life completely.
I want to follow in his footsteps.
Lord, I too want to be made well and made whole. And when you speak the words, I will rise up and walk.