God so loves the world
Sunday, March 11, 2018
From John 3
God so loved the world that he gave his only begotten Son, that whosoever believes in him should not perish, but have everlasting life.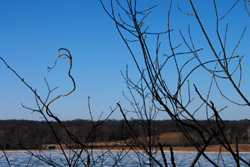 My friend told me a story, and I thought of Chris and Marc and Andrea and their questions.
"Daddy, will everybody make it to heaven?"
His dad knew better than to answer this question directly. He said, "It all comes down to two numbers, 3 and 16. Then they read the verse together. And Simon was left with a sense of well-being. God loved him, and he could love God. He believed.
I wonder what his next question will be.
"Daddy, what does it mean to believe?"
"How do I know I believe?"
"What happens after I believe?"
Or even, "Do you have to believe just when you die, or all the time, or sometimes? Sometimes I don't think I believe. What then?"
I don't know if Simon will ask those questions, but I do. Sixty-five years since I've sat on my daddy's lap, and these are some of the questions I have about this verse. I'm pretty sure that my dad would have said, "Don't let your thoughts get so complicated, Dave."
Why should I need to know God's mind? His thoughts are higher than mine. He created the whole shebang, and I am just a tiny particle of sand in the seashore. Can I just let well enough alone and believe?
In Holy Longing Ron Rolheiser echoes John Shea when he writes about "undergoing" the presence of Jesus Christ rather than simply worshipping or imitating him. The Incarnation was not just a thirty-three year period of Jesus walking on earth. The Incarnation continues, because we are now the Body of Christ.
So when we say "I believe," we acknowledge ourselves as the Body of Christ. And in that Body we must "undergo" our own suffering and our own death: the death of our youth, the death of our wholeness, the death of our dreams, the death of our honeymoons, the death of certainties we have about God and church … this is not a complete list, but you get the idea.
Death precedes resurrection. One will not happen without the other. Less theologically, you can say that God strips us naked so he can wash us clean and clothe us with holiness.
Jesus asked many of the people who pleaded with him for healing. "Do you believe?"
What else would you say, but "Yes!"
The words "No, Lord" have zero traction. But "Yes, Lord" carries me right into heaven, right now, in the only moment that matters.
This one.
Yes, Lord, I believe. Help my unbelief. For me most of the time those phrases run together. I wish they didn't but they do. I am so thankful that you don't care. You know how you feel about me, regardless of how I feel about you. You know who I am, even when I have no idea who you are. You made me, I did not make you. That is what you help me remember day by day. Night after night. Fear by fear. You are here.