A thousand generations
Sunday, December 31, 2017
From Psalm 105
The Lord remembers his covenant forever, for a thousand generations.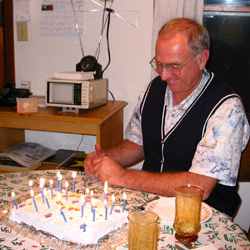 What's in your wallet? What prayer do you count on when you need one? Last night, I joined in with the British readers and technicians of their daily five-minute podcast, "Pray As You Go" to pray the "Glory be." Glory be to the Father and to the Son and to the Holy Spirit, as it was in the beginning, is now and ever shall be, world without end. Amen.
Sometimes in the morning Margaret and I kneel beside our beds and pray the Lord's Prayer. Our Father, who art in heaven, hallowed by thy name. What's in your wallet?
The Jesus Prayer: Lord Jesus, have mercy on me! The apostles' creed: I believe in God the Father, maker of heaven and earth. The Rosary: Pray for me, pray for Margaret, pray for Miles and Aly and Jack, now and at the hours of our deaths.
My morning mainstay is "Gratitudes." Dear Lord, thank you for this day. And hopefully two or more specifics will follow. Like, Thank you for this breath, Lord. And this one. And this one.
Margaret found another daily prayer and proclamation, which has been sitting there quietly for a long time, waiting for us to claim it for ourselves, like Jesus did. It's in Isaiah 61.
The Spirit of the Sovereign Lord is on me, because the Lord has anointed me to proclaim good news to the poor. He has sent me to bind up the brokenhearted, to proclaim freedom for the captives and release from darkness for the prisoners, to proclaim the year of the Lord's favor and the day of vengeance of our God, to comfort all who mourn, and provide for those who grieve, to bestow on them a crown of beauty instead of ashes.
Of course it's especially powerful to hear these words from Jesus. But I am pretty sure that Jesus wants his listeners to own the same idea, that at our creation we were given dominion over all the earth (not each other, of course). Dominion means to lovingly and thoughtfully care for what I've been given, with strength of will and the courage that comes from sacrifice.
Do you hear that we proclaim a YEAR of favor but only a DAY of vengeance? Just getting that one idea under our skin would make the world safe for us all to live in a constant state of jubilee, where all the women are strong, all the men are good looking, and all the children are above average.
The Lord remembers his covenant for a thousand generations. David used, and perhaps wrote, these words in Psalm 105 to commemorate the carrying of the Ark of the Covenant up to Jerusalem. That was three thousand years ago or so. If a generation is 15 years, then we have seen 200 generations come and go since then. 20% of God's promise.
A thousand generations? God's memory of his promises is long, even as his memory of our sins is non-existent. He pours out his mercy on us, and then it's obvious that between us too, he desires "mercy, not sacrifice."
Generational studies fascinate me, as much because of our similarities as our differences. And as we live our lives and pass on to make room for the next generation, we all can know that the Lord is the same, yesterday, today and forever.
Lord, protect us tonight in our foolishness and your wisdom. Give us joy to pass over from one year to the next. Release us to proclaim freedom and a crown of beauty. Ashes be gone! Let us rise tomorrow morning to meet the new year Sun.