Just pay attention
Tuesday, December 27, 2011
1 John 1:1-2
What was from the beginning, what we have heard, what we have seen with our eyes, what we looked upon and touched with our hands concerns the Word of life, for the life was made visible.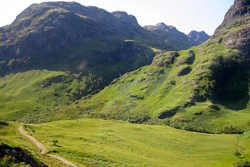 In his new wordpress blog on Christmas day, Richard Rohr said this "Christ mystery" existed "from all eternity but only became humanly manifest, concretely visible and fully lovable two thousand years ago in the life of one concrete person we call Jesus." He quotes his favorite theologian Walter Brueggemann: the appearance of Jesus is "the scandal of the particular indeed."
I touch with my hands, I see with my eyes. I listen with my ears and smell with my nose. And I taste with my mouth. Making sense of things requires all of this. John's senses were his guide as he tried to wring out the deepest meaning from his days with Jesus.
Doesn't he want to share the best moments of his life with those he cares about? Describe them somehow in those elusive words that generally pour forth willy-nilly with little forethought, but now … they matter. John wanted that for his friends, for the men and women and children who looked to him for their spiritual direction.
Which way to go, John? Knowing (through you) what we know now, how should we then live?
In one of their last moments together, Jesus touched John's lips and shushed him. He gave him his own direction. "When Jesus saw his mother and the disciple whom he loved standing nearby, he said to his mother, 'Woman, behold your son!' Then he said to the disciple, 'Behold, your mother!' And from that hour the disciple took her to his own home" (John 19:26-27).
A lifetime of loving service behind him, John now has something to say. He has earned the right to be heard.
I want to drink deeply, Lord. Taste your living water all the way down. Feel the fire in my belly and in my eyes. I believe, Lord. Help my unbelief. Open up my senses. Fill up my senses, and shut down this part of my "adult" that just says no. You are leading me toward yes after yes after yes.